She seeks wool and flax, and works with willing hands.
She opens her hand to the poor and reaches out her hands to the needy. She is clothed with strength & dignity
Proverbs 31:13-15
Thank you for stopping by! We hope you have a joyful shopping experience!

****NOTICE**** WE ARE TAKING A BREAK. YOU MAY PLACE YOUR ORDER BUT THERE WILL BE NO SHIPPING UNTIL EARLY TO MID OCTOBER. *********************************************

PLEASE NOTE:

DUE TO A WEBSITE ISSUE, YOU MAY NOT BE ABLE TO LOCATE YOUR ORDER USING YOUR ORDER NUMBER THAT WAS PROVIDED TO YOU AT THE TIME OF YOUR PURCHASE.

TO CHECK ON YOUR ORDER PLEASE SEND AN EMAIL REQUESTING ORDER STATUS TO: INFO@BEACHCOTTAGESTITCHERS.COM OR BCHCOTTAGESALES@GMAIL.COM AND I WILL CHECK ON YOUR ORDER.

WE ARE CURRENTLY WORKING ON A NEW & MORE USER FRIENDLY WEBSITE.

I APOLOGIZE FOR THE INCONVENIENCE. THANK YOU!
******************************************
IF YOU ARE ORDERING KITS TO BE MADE UP: DUE TO ONGOING SHORTAGES, DELAYS MAY OCCUR AND THE CALLED FOR LINEN OR THREADS MAY NOT BE AVAILABLE AT THIS TIME. ALTERNATE LINEN OF THE SAME COUNT OR THREADS AND CLOSE AS POSSIBLE COLOR WILL BE SUBSTITUTED.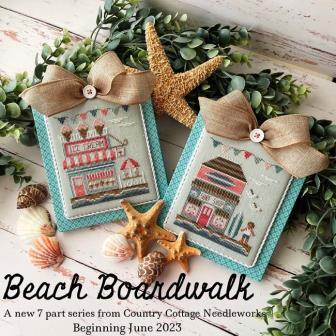 LISTED BELOW ARE SOME OF OUR RECENTLY ADDED ITEMS:
WISHING YOU MANY HOURS OF HAPPY STITCHING!